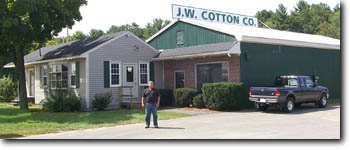 Thank you for visiting our web site. Those of us at J.W. Cotton hope you find it helpful.

In addition to those services currently posted on this site, J.W. Cotton now provides excavation, full site work for new construction and heavy dump truck service. Our bulldozer and excavator are ready to take care of your earth work.

Check out our "current conditions" area. This section displays current temperature and weather conditions in the Hatfield/Northampton area. In addition our weather section provides links to other weather service web sites we hope you find helpful.